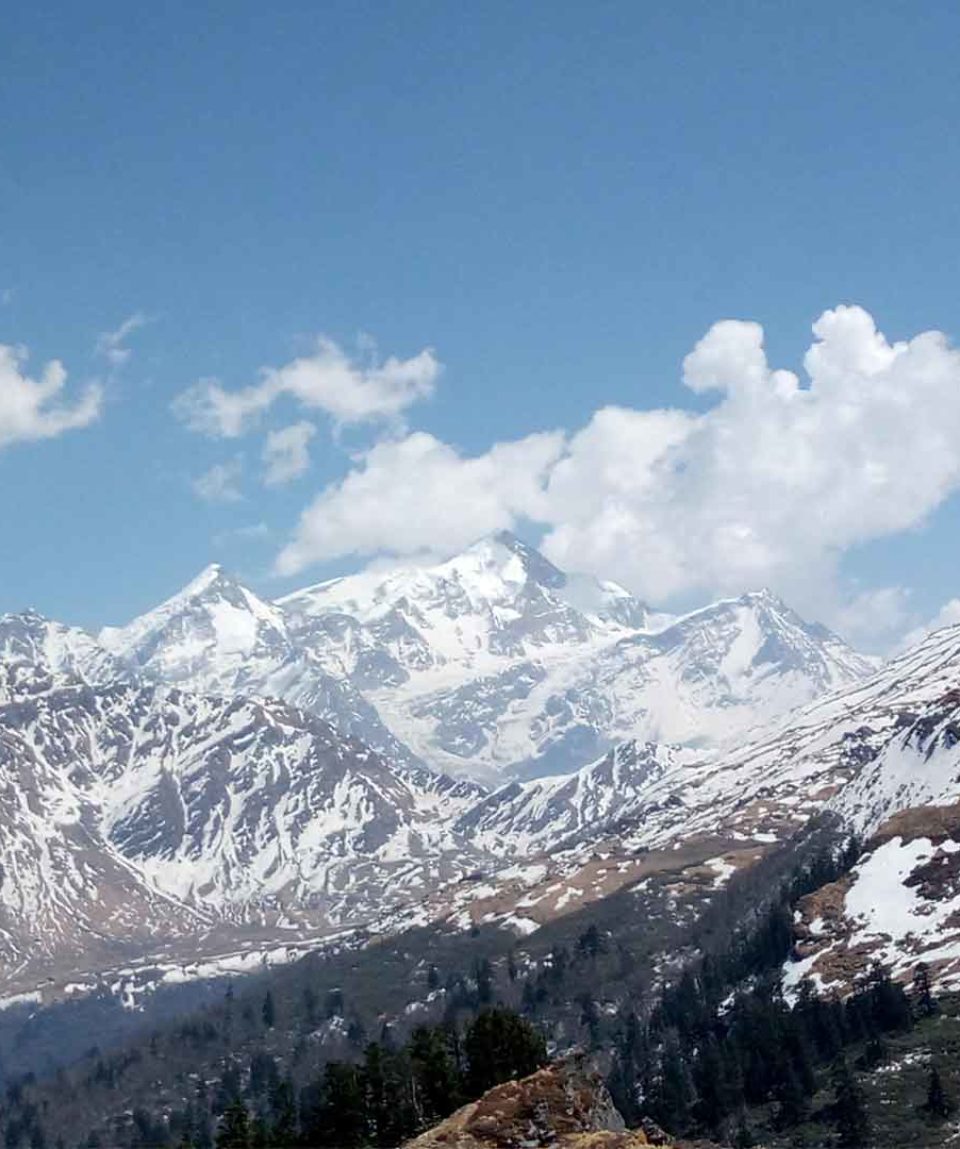 Kuari Pass Trek
Lord Curzon has discovered and popularized a marquee trek route starting from Joshimath to Kuari Pass in the Garhwal Himalayas, among many works in India. At an elevation of 4264 meters, Kuari Top is like an amphitheater with some of the dreaded Himalayan peaks on the stage.
Vacation Style Holiday Type

Activity Level

easy to moderate
All about the Kuari Pass Trek.
The trek starts at Joshimath, in the Chamoli district of the Himalayas, which has developed into a center for trekkers and pilgrims in this part of the Himalayas. The confluence of several rivers – Pinder, Kaliganga, Mandakini, Birganga, and Dhauli Ganga leaves Panch-Prayag – namely Devprayag, Karnaprayag, Devprayag, and Rudraprayag. The trek then proceeds through small remote Himalayan villages.
Walking along the Curzon trail through these villages is a great way to get acquainted with the lives of the mountain people. The trees in the yellow-orange colors of autumn are a deep contrast to the blue-brown mountains and snow caps. The trek passes through magnificent forests of oak and pine trees. And these forests are, of course, home to some wildlife. Traces of leopards or Himalayan black bear pugs can be seen in the forests. Rhododendron trees, which bear a fiery red color, are also found in abundance in these mountains.
A truly refreshing part of the trek, passing through the magnificent Himalayan grasslands called 'Bugyalas' in the local tongue. The beauty and serenity of the Himalayan plains is an experience that no one should miss. The most notable is the Gorsan Bugyal, which has large emerging green pastures. On this trek, you will also visit Auli, which is famous for the beautiful skiing slopes in winter Kuri Pass.
Trek Info:
🔶Hight- 3550mt.
🔶Duration- 6days
🔶Best season- Oct to June
🔶Leval- easy to moderate
🔶Group size: 7 to 40 members
The tour package inclusions and exclusions at a glance
What is included in this tour?
Items that are included in the cost of tour price.
✡Travels
✡Forest permission
✡Hotel
✡Food
✡Staff- ☑experience guide
-☑ Cook
-☑Helper
-☑mual
-☑Trek Equipment
Note – prassnal luggage 300/pardays pay bal.
Day1

Haridwar to Joshimath

Height: 6724 feet
256 km drive, approximately 10 hours
Trekkers will be taken from Haridwar
Accommodation in the guest house
Telephone Network – Available

Day2

Joshimath to Gulling

Elevation: 9600 feet
12 km drive and 6 km trek, approximately 4 hours
The trail is a mixture of steep and gradual ascent, passing through most villages.
Hot lunch at camp site
Water Point – Available in Gujar Villages
Tent housing
Seen the peaks: Dronagri, Elephant mountain, Gori mountain

Day3

Gulling to Lower Khullara

Distance: 4-5 km
Elevation: 11,070 feet
Time took: 4 o'clock
Chitrakantha Camp of Kuri Pass Winter Trek is one of the beautiful campuses. Wake up and walk to an amazing view of Nandadevi, Kalanka, Dronagiri, Chang Bang, Ghori Mountain. The trek for the day is about to take you through the forests of rhododendrons and wall walnuts. And, this trek is known for its picturesque beauty and the snowy Himalayan peaks. The trek from Kuari in the lap of Uttarakhand Himalaya also leaves you spellbound.

The tall tree in the forest with snow all around is a place that one can never forget. Move a lot of water since only one water source is available. Spend your day in this beautiful campus and then explore nature and explore the area. Over the top, night stays in tents.

Day4

Lower khulara to Kuari Pass and back to Lower Khulara

Distance: 15 km trek

Altitude: 12,763 ft

Time Taken: 8 hrs

Today we go through the series of ascents on meadows that continue getting better as we move up. And, the summit day of Kuari Pass easy winter trekking is the most strenuous part of the journey. The trek from Tali top is a steep uphill climb. So, It is compulsory to carry sufficient water with you as Dehydration promotes Acute Mountain Sickness. There are no water sources on the way. Walking on golden-green and alternative hues of grass are simply blissful. Kuari pass trekking trail is exciting from start to end which fills your heart with serenity. And also, the views are getting to be nice throughout therefore we our cameras handy. This winter kuari pangarchula trekking route is completed in a few hours.

There are many good reasons to leave home for a few days. You can also make Kuari pass pangarchulla peak easy trekking trail videos with the beautiful scenery. On Himalayan treks, as the temperature falls your battery would discharge even without using and electricity is a rare thing. So, don't forget to carry a camera with an extra battery.

Distance: 15 km trek
Height: 12,763 feet
Time taken: 8 o'clock
Today we go through a series of mounts on the grasslands that are getting better as we go forward. And, the peak day of easy winter trekking at Kuari Pass is the most difficult part of the journey. The trek from Tally Top is a steep uphill climb. So, it is mandatory to carry enough water with you because dehydration promotes acute mountain sickness. There are no water sources on the way. Walking on the golden-green grass and alternative bays is simply delightful. The Kuari Pass trekking trail is exciting from beginning to end that fills your heart with peace. And also, the ideas are getting good so we work our cameras. This winter Kuari Pangarkula trekking route is completed in a few hours.

There are many good reasons to leave the house for a few days. You can also make Kuari Pass Pangarkula Peak Easy Trekking Trail Videos with beautiful views. On the Himalayan trek, when the temperature drops, your battery will be discharged even without use and electricity is a rare thing. Therefore, do not forget to carry a camera with extra battery.

Day5

Lower kulara to Pangarchulla Peak

Lower Kulara to Pangarchulla peak 10km and. Back lower Kulara

Day6

Lower khulara to Dhak villege

10km / 6-7 hrs and drive joshimath 10km/30m.