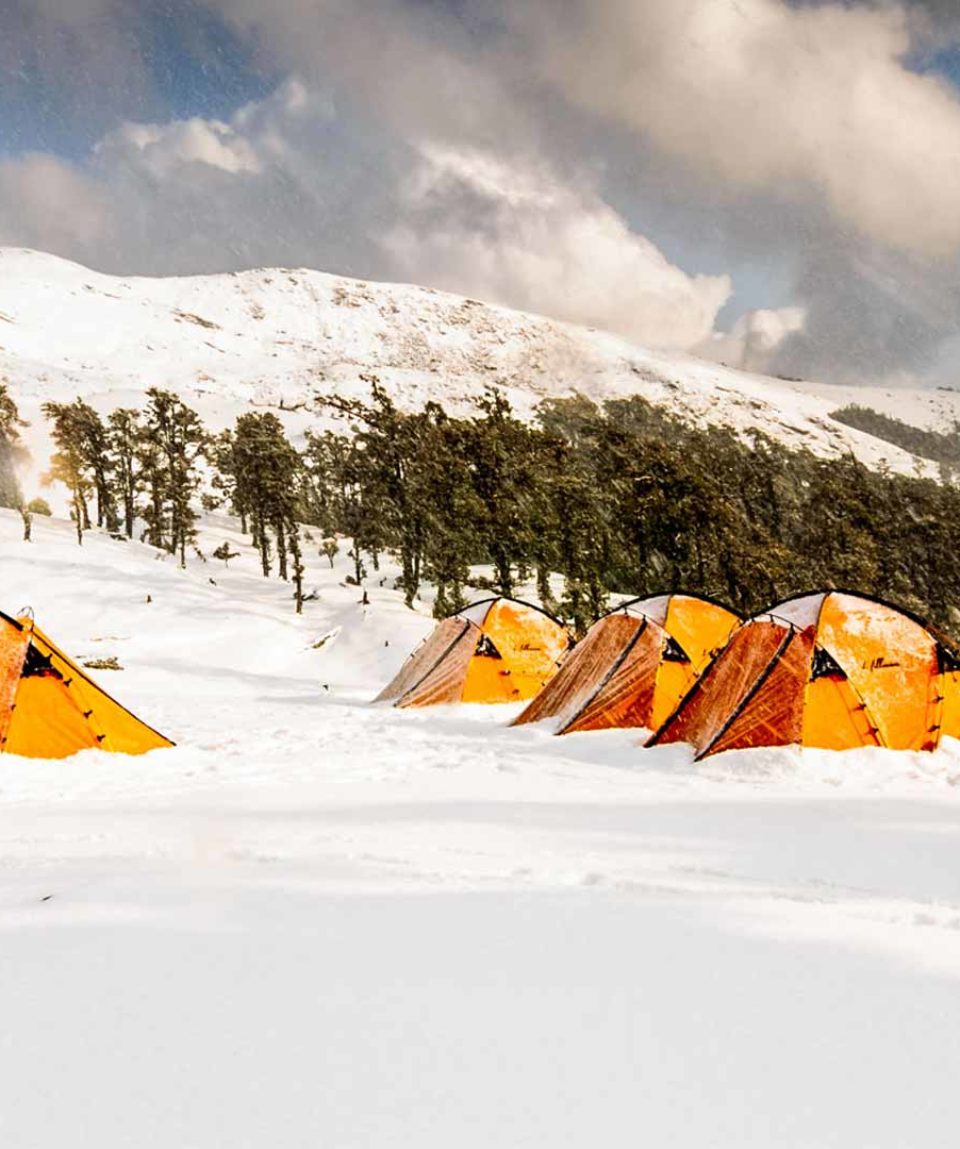 Brahmatal Trek
Steeped in mythos, Brahmatal is a lake located in the depths of the Uttarakhand Himalayas. The winter here runs surprisingly up the slope, making the Brahmalt one of the Himalayan sites available for trekking in December, January, February and March.
Vacation Style Holiday Type

Activity Level

easy to moderate
All about the Brahmatal Trek.
Due to the gradually increasing slope, the Brahmatal trek route is considered suitable for beginners and less experienced trekkers. A large portion of the trek continues under the cover of the forest, reducing the likelihood of altitude sickness.
All the same, the trek will not deprive you of an out and thrilling winter experience with the sweet mellow feel of falling snow, a charming trail caught by a full white outside, intense silence inside the groves of rhododendrons and oaks, and iced overs. Lake water face
A special outcry for this trek leads to shutterbugs – various frames, from snow-clad forests to high white-gold peaks in Alfenglo, and a desolate alpine mountain-scape of a lone tree standing on the icy shores of Lake Brahmatala Huh. The composition of this trek.
Trek Info:-
✔Region: Uttrakhand
✔Duration: 6days
✔Grade: esay and moderate
✔Max Altitude: 12,200ft
✔Trekking Km: 24 km
✔Group size: 7 to 40m.
Note – personal luggage 300/pardays pay balance.
The tour package inclusions and exclusions at a glance
What is included in this tour?
Items that are included in the cost of tour price.
✡Travels
✡Forest permission
✡Hotel
✡Food
✡Staff- ☑experience guide
-☑ Cook
-☑Helper
-☑mual
-☑Trek Equipment
Day1

Kathgodam to Lohajung

Altitude 7,662 ft.
Stay in guesthouse
Local market and network is available
Drive 210 km (10 hrs drive)
Route:- Kathgodam – Bheem Tal – Almora – Kausani – Gwaldam – Dewal – Lohajung.

Day2

Lohajung to Bekaltal

9,690 ft, 4-5 hrs trek, 6 km
One-third of the trek through the village
Stay in a tent
Go to Bekaltal lake for an evening walk

Day3

Bekaltal to Brahmatal

10,450 ft, 6 – 7 hrs /7 km
Hot lunches / packed lunches, depending on weather and snow conditions
No point of water, it is advisable to carry at least 2 liters of water
Very beautiful day, both Shivalik and greater Himalayas can be seen

Day4

Brahmatal to Tilbudi via Brahmatal Pass

Altitude :- 10,450 ft. to 11,250 ft. via 12,200 ft
Moderate climb to the Brahmaltal route (some slopes have steep climbs)
After the pass, all the descendants up to the Tilbudi campsite
No point of water, it is advisable to carry at least 2 liters of water
Rhododendron and Oak Forest
Lunch at the summit (lunch packed)
360 degrees of view from the summit

Day5

Tilbudi to Lohajung via Wan

Altitude: 11,250 ft. to 7,650 ft. via 8,000 ft.
5-6 hours, 4 km trek + 1-hour drive to Lohajung
Successive and vertically mixed lineages
You will find a place to refill your water bottles
Lunch on the way (lunch packed)
Walking stick and knee cap will help a lot
Stay in a guesthouse

Day6

Lohajung to Kathgodam

10 hrs drive
Drive 210 km
On the way to Kausani's Kathgodam you can buy herbal tea and some souvenir.